Of course it was going to go to five sets. Of course it was going to make you feel sick for four hours. Of course it was going to go places that no other final and no other players could possibly go.
Before this Australian Open final between Roger Federer and Rafael Nadal even began, it felt like the Beatles reforming in 1979 for a one-off gig. When Federer's forehand finished it, deep into the Melbourne night, it was as if they had released a new Revolver too.
Federer, supposed to be not only past his prime but past the period when he was past his prime, took on logic, his nemesis and the unarguable passing of time. In coming past all three he may have pulled off not only the best of his 18 Grand Slam singles titles but possibly the greatest Slam victory of all.
Out injured for the past six months. Adrift in the rankings; superseded by the younger, fitter, faster. Thirty-five years old, a father of four – in recent seasons worshipped as a relic rather than real-time contender.
And then a break down in the deciding set, off court for a lengthy medical time-out, receiving further treatment between games as Nadal's forehand pulled the legs off him like a cruel kid playing with a crane fly, only to reach back into the years for one final dazzling burst.
Most meetings between the world number 17 and the world number nine are not like this. But then no-one has ever been like Federer and Nadal, the two finest players in history, the rivalry between them approached only by McEnroe and Borg.
It is 31 months since Nadal last got past a quarter-final at a major, seven years since Federer last won the title here, and this was the past come back gloriously to the present: a beautiful final for troubled times, sport playing to perfection its role as the sweetest of distractions.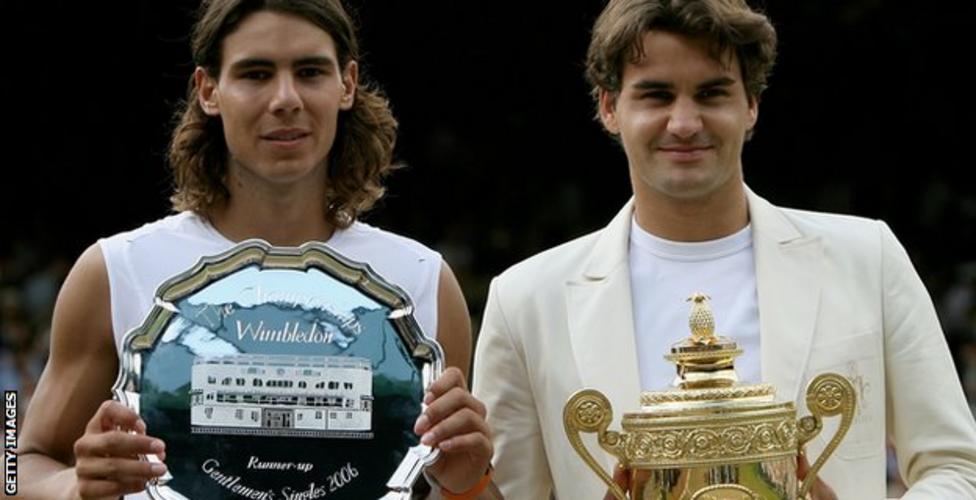 A fortnight ago, the odds on a Federer-Nadal and Venus-Serena pair of finalswas 5000-1. It should have been impossible, and that has made it all the more impossible to resist.
When Nadal opened his tennis academy in Majorca four months ago, Federer turned up to wish him well. Both were injured, reduced to hitting sponge balls against kids, old warriors turned battle-damaged friends. They wore suits, and looked ready for slippers.
All those Slam campaigns, all those slugfests on hard courts and knee-jarring slides on clay and chasing on slick grass, seemed to have taken their toll.
Federer's back had gone, and then his knee. Nadal's knees for once seemed OK, but his wrist had failed instead. At Wimbledon, where the 2008 final between the two took its sport to new heights, Nadal's last four appearances have ended in defeat to the world number 100, 135, 144 and 102.